Beginner Kids Martial Arts Classes Enrolling In January
Your child can learn important self-defense moves while having a ton of fun! The Kids Martial Arts program we offer at Columbus Martial Arts Academy includes techniques from Karate, Muay Thai, Judo, and Jiu-Jitsu. This curriculum combination includes submission grappling (Brazilian Jiu Jitsu), takedowns (Wrestling & Judo), and striking (Muay Thai) to create what we call "Warjitsu." By incorporating a variety of skills from diverse martial arts disciplines your child will gain a more comprehensive understanding of martial arts as a whole. This program is an awesome introduction to martial arts that can help kids ultimately choose a specialty later in life.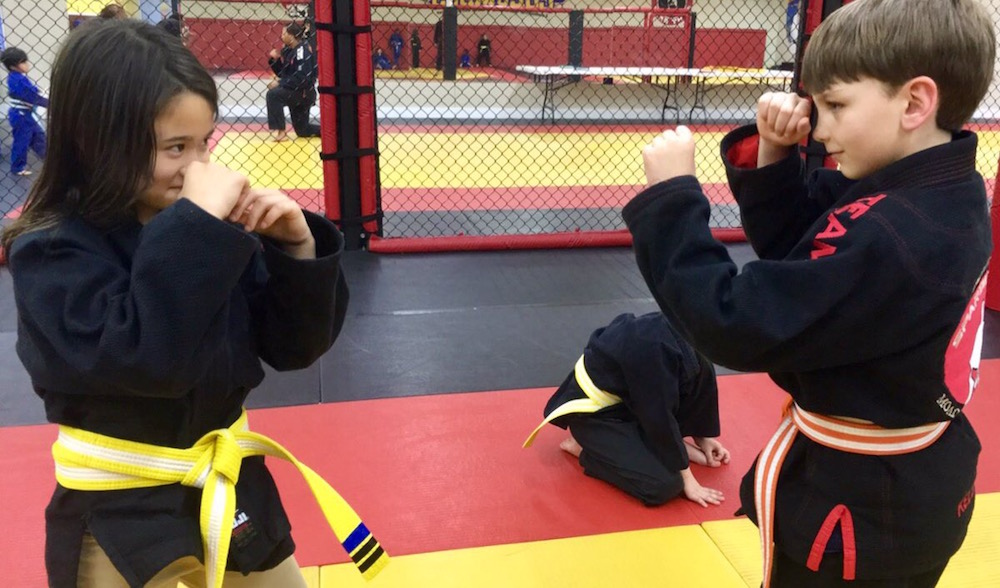 Benefits of Kids Martial Arts Classes in Columbus
Kids Martial Arts programs teach Columbus children of all ages valuable lessons and characteristics that will benefit them throughout their lives. The life skills taught by our professional instructors include confidence, discipline, self-esteem, integrity, courtesy, and respect. Other benefits of Kids Martial Arts classes include:
Fundamental interaction and socialization with peers
A fun way to get kids excited about physical fitness
Increased coordination skills
Boosted self-confidence
Improved attention span and concentration
A fun and educational after-school activity!
Our program is heavy on character development, and focused on goal setting and attainment!
Martial Arts for Kids of All Ages!
Kids Martial Arts classes in Columbus take place in the evening and are separated by age group. We have Tiny Warriors ages 4 - 7, Jr. Warriors ages 8 - 12, and Teenage Warriors 13 - 17. If your child is interested in joining any of these Warjitsu classes, or you would like more information about our program, please fill out the short form on the side of this page. We will get back to you shortly with all the information you need!