Basic SKILLZ Program Enrolling Now
Five and six-year-olds are the most enthusiastic students. They love creativity and problem-solving, which makes them ideal students for our Basic SKILLZ program here at Columbus Martial Arts Academy! We're offering the children of the Community of Columbus and beyond an amazing opportunity to be a part of the structured program introducing basic skill-based training in Martial Arts. Each student who passes through this program has proven to be very successful!

Here's an overview for the stages of development of children ages 5 and 6:
Physically: Typically 5 and 6-year-olds have a basic foundation for leg, arm, core, and abdominal development, but they still lack a lot of strength. The goals for our program are to get them to perform high repetitions of dynamic exercises with good technique.

Intellectually: We've learned that young children oftentimes struggle with retaining beyond three commands or distinguishing their left from right. The goal for our program is to get them to retain three or more commands at once, and beyond. We will also help them learn how to perform various left and right combinations.

Emotionally: Kids focus on things that make them happy. They also have slow brakes when they are excited. We expect them to initially lose focus and shut down when they are not happy and lose control when they are over-excited. Our program is designed to help them focus even when it may be difficult. We will also help them control their body and their power, especially when they are excited.

Socially: 5-6-year-olds are typically very playful but also pretty competitive. Our instructors are here to help them learn good teamwork, sportsmanship, and stewardship.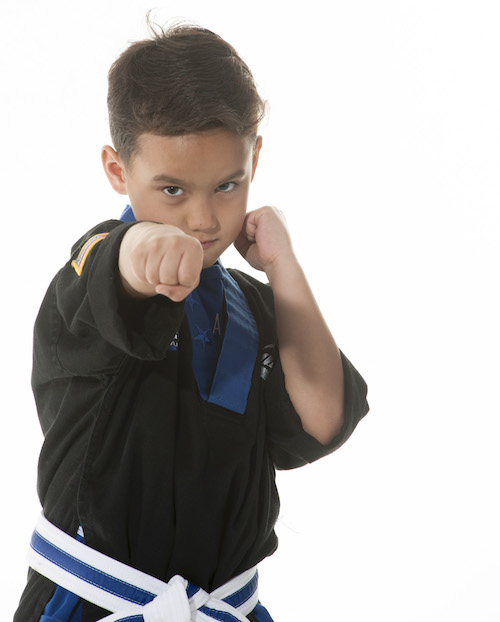 As you can see we take Martial Arts training to a whole new level for your children! We use basic elements of traditional Martial Arts curriculums to build skills that are appropriate for 5 and 6-year olds. This means that your child will learn and grow at a pace that is not too easy, nor too challenging.
The benefits of Martial Arts classes are endless. From confidence and self-esteem to discipline and empowerment! We're positive that you will benefit from our Basic Skillz program just as much as your child! Ready to get started?
Just fill out the form on this page!